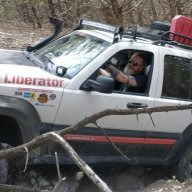 Proud owner of a nice, cheap set of center caps.
KJ Supporting Member
Joined

Apr 29, 2021
Messages

1,637
Reaction score

1,488
Location
I can't help it...I really enjoy watching folks do stuff the hard way on youtube...

Anyway, got me a shiny new snorkel kit on the way from Poland...its going through customs on the east coast as I write. I have observed some pretty crazy ways to deal with the radio antenna from just snipping it off to bending it a zip tying it to the upper arm. I'd prefer to keep the antenna intact as I'm old enough I actually use the radio. (Car-Talk on NPR for Sunday morning drives anyone?)

Checked out a few options from replacement to a stubby to relocation. Figured I'd see if anyone around here had input. I'm not keen on relocation as I have a few projects I'd prefer to finish first before deciding on pulling the interior apart again.