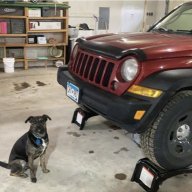 Joined

Nov 14, 2018
Messages

388
Reaction score

391
Location
yea the trailer pretty much boned you. I hate anything with a "ramp" that sticks straight up. open car trailers I do astonishingly well, and v-nose enclosed don't seem to hurt as much as square.

glad to see someone else with a stick who knows how to tow.
It sure did! I have a steel trailer with a fold up ramp, but the grates are spaced out a lot more. It pulls very easily.
I actually towed my old XJ on a dolly with my Liberty a few years ago. I got like 14.5mpg out of the deal ‍♂️