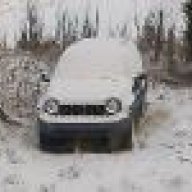 Joined

May 31, 2015
Messages

3,085
Reaction score

737
Location
I'm looking for some round KJ dash vents to experiment with. A few at first, then maybe as many as you can break.

My idea is to use the outer and inner ring as a base for a gauge mount. I'm installing a boost gauge in a gauge mount that isn't available anymore. No problem except I want to add an exhaust gas temperature gauge next to it someday when the exhaust manifold, or head have to come off. (Tapping and plugging EGR port in exhaust manifold for enhanced EGSRD)

This might seem like a CRD "banana" thing to all of the "orange" gasoline KJs but some among you might want a transmission temp gauge or... whatever.

I'll shop the local junk yard but it's a small place without many KJs passing through.

Silver lining of this project might be that I might be able to reconstruct some functional dash vents from the bits of the broken ones.