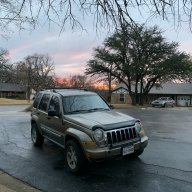 Joined

Oct 27, 2021
Messages

12
Reaction score

4
Location
I've been doing a bit of digging about the rear upper control arm or tri-link. I have seen a lot of posts about installing a new one but not a lot about the experience after it was installed. I figured I would do a small writeup about my experience with this particular part as I recently had a not very fun one.

I was noticing a clunk in the rear as I went over speed bumps that was getting louder by the mile and the shift from reverse to drive was quite harsh and often accompanied with a similar clunk. After some digging around it was found to be the bushings and ball joint in the rear upper control arm. The bushings were torn and the ball joint shot. Due to lack of time and tools I had a transmission shop replace the entire piece with a new one. After getting it installed it felt like a new car (kind of). No more clunks over bumps and shifting smooth. Until one day when I felt like the car was back to its clunky self. Upon a quick roadside inspection I found that the ball joint had completely disconnected itself from the top of the rear differential (Picture attatched to post of what I found). This was pretty frustrating as I just spent upwards of $700 to have it replaced and it left my driveshaft vulnerable to harsh motion from the drive train. Of course this happened over the weekend so the shop was MIA. I decided to give a crack at connecting it on the side of the road and actually got it done with two jack stands and some physics. After a couple of days of driving it was back disconnected! At this point I was kind of concerned that something was wrong with the part on the differential that holds the ball joint. I reattached it and felt much better this time around as it seemed to have go in deeper where the bolt really went through the little groove of the joint (with a little hammering).

Since then I have driven on it quite a bit and it has not come disconnected but it leaves me worrying every day if it will happen again. I was wondering if anyone else had a similar experience with that ball joint dislodging itself or if anyone had advice on how to make sure it doesn't happen again. Sorry for the long post but thanks for reading!