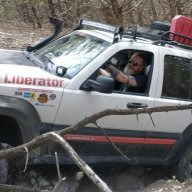 Proud owner of a nice, cheap set of center caps.
KJ Supporting Member
Joined

Apr 29, 2021
Messages

1,643
Reaction score

1,494
Location
Marvel, wow. I sold that in 1970 when I worked at an auto parts store. It was an antique then. I believe it originated for use in add-on top-end oilers for Model T's or Model A's.

Most we sold were for air tool lubrication.
Truth man, truth. As a VW bug guy from way back, I thought it was only for a dripper on flat fours.
Really is a marvelous mystery.
Kind of a shame it only comes in red plastic containers now. The cans were kind of an icon in wrench head garages for decades along with State 999 degreaser and Kano Kroil. ( I still use both of the latter, though 999 is getting hard to find.)
Great for air tools, compressor seals, and storing 2 strokes. Even better when used with Kroil to free up junkyard find engines.