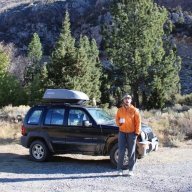 Joined

Oct 28, 2021
Messages

17
Reaction score

2
After much internal struggle, I finally pulled the trigger on the Ironman 4x4 1.5" lift (with HD springs) along with a full front and rear refresh package, well deserved after a rough and rowdy 187k miles. It's also due time for new tires, so here's where my question comes in.

What is the largest tire size I can run on the 1.5" lift without needing to re-gear?

It seems like a crowd favorite is the 245/75r16's (which have been tough to find used) and the 265/70r16's which are plentiful, however I've only seen this on threads with the OME kit which ends up being closer to a 2.5" lift so I'm not sure if that's comparable to the Ironman.

I apologize if this topic has been beaten to death, but I haven't been able to find much on here about the Ironman lift and I would really appreciate any guidance!

Thank you!