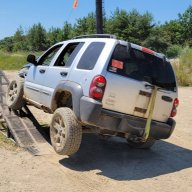 Joined

Mar 19, 2023
Messages

8
Reaction score

22
A nagging shoulder injury has been preventing me from wrenching on the trail rig but I finally got to install some of the parts I've had for 2 months now.

I went with OME 790/948 springs and bilstein 4600 shocks and am very happy thus far. I didn't add any extra height to the front/rear above what the springs gave me and picked up 1.5" over what I had on the stock suspension and bs spacer lift. Not sure how I missed it initially but that spacer lift was garbage, specifically at full droop where the springs made contact with the uca/frame rail and bound the cv shafts horribly. Now I have no spring contact and no cv binding issues which is great. Took it for a short ride and it performs like a different rig now. No popping/banging everytime I hit a bump or flex it...lol.

This week I will be installing new upper control arms/ball joints as a preventative measure along with a trans, transfer case and gas tank skid plate I sourced from another truck I parted. I also need to mount my winch, extend some breathers and install some limiting straps. Pretty pumped to see what this thing is capable of with some proper equipment.