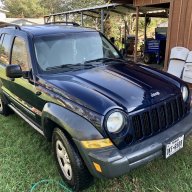 Joined

Jan 3, 2022
Messages

125
Reaction score

46
Location
I am SO exhausted & frustrated over my long drawn out rough idle & stalling in PARK issue!

History... Two months ago my 2006 Jeep Liberty 3.7L began having a very erratic idle but ONLY IN PARK. Then it developed a severe misfire plus had random intermittent sudden loss of power acceleration where it would bog down and almost nothing with pressing pedal to the floor then it would stall or slowly pick up pace as if nothing were wrong. Between myself & father in law we replaced all of the following trying to fix it.

*New fuel pump
*Every sensor that was plugged into the engine ( MAP, IDLE CONTROL VALVE, TPS, CRANKSHAFT, EGR, plus others)
* All coil packs
* All injectors
* New plugs
* 4 new oxygen sensors
* New starter
* Deleted converters thinking they may be clogged
* Brand new muffler thinking it may be restricted
* All new fuses / relays

And... After running it daily with the misfire because it is our sole vehicle and my wife had to get ti work 45 min away... It died.

Was told it has a bad valve...

So... Got a used 3.7 from junk yard with only 124K on it. It was from a 2008 Dodge Ram.

Got it professionally installed and got Jeep back. First test drive got 400 feet towards the end of my street and when I was braking to stop it stumbled and stalled! Then for the whole drive it was doing the exact same thing as the prior engine did with rough idle in park and bogging down / stalling. It has not misfired and had the blinking check engine light yet.

Took it back to shop and they ran diagnostic. I was told two oxygen sensors up front came back and needed to be set and programed to computer which my mechanic did. Also the fuel pump came back as bad as well. So bought a brand new pump and mechanic just installed it yesterday. Got Jeep back and it is STILL idling very rough in park way up then all the way down til' almost stalling then it stalls eventually.

I am wondering a few things now. Could having no cats be causing the erratic idle? Since the engine was out of a 2008 Dodge Ram does my 2006 liberty need a different ECU, or if not could my ECU be faulty all along causing the bad park idle?

Or anything else it could be? I find it absolutely astonishing it is doing exact same thing with a completely different engine!!!!

And finally... Very nice to meet you all and HAPPY NEW YEAR!