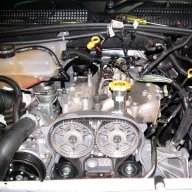 Joined

Sep 17, 2016
Messages

8
Reaction score

2
Location
Hi Phil. I'm in 24320 Champagne et Fontaine (Dordogne). Where are you? What I was asking at the time was whether in replacing the idler pulleys I had disturbed something else which might have been causing the black smoke. It now seems that the hose probably split when I was removing/replacing it and I didn't notice. My next job will be cleaning the MAP sensor. Then there's the gearbox mounting to replace on my Mercedes W204, the front subframe, engine mountings and timing chain kit to replace on my 1989 Mercedes R107 500SL, and the E Type to finish ..... oh, and a Happy New Year to you also!
Hiya John, I'm in Montpellier most of the time, 34090, although I have a house in the Lot near Cahors too.....long story.
Yes, I eventually understood what you meant about the pulleys
I was a little tired when I replied to your post. MAP sensor clean is an easy job & should give you a bit more umph when it's complete. It isn't too expensive if you want to replace it though.
Sounds like you have a fleet with a little work to do. I have a mate near Limoges with the same sort of job list. (He has a couple of 2CV based kit cars & a few other projects.)
If you can find the time in the future, when you replace the hose, I would recommend giving the Flow Control Valve a good clean & check its gaskets & tightness to the air intake. It's likely to be gummed up with a gloopy carbon/oil mix. The CRD is really sensitive to any turbo plumbing leaks. The FCV is 3 & 4 in the image I've attached & that connects with your new hose.
Keep in touch.
Last edited: