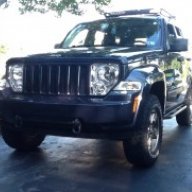 Well-Known Member
KJ Supporting Member
Joined

Dec 9, 2012
Messages

1,536
Reaction score

1,411
Location
A number of folks (like me) are running Jeepin By Al's adjust a strut lift kits. JBA stopped supporting or making these a few years ago. The question periodically comes up, what happens if I need to repair one of the units?
The coilover shock itself is a Bilstein. A member over on Jeep Forum dug up some old pictures that had the part number of the threaded shock, which is F4-B46-0204-HO. Several places online carry this one. (Note, this part number is for the basic shock without "total control" valves or external reservoirs.)
Here is a link to the JF thread that has the info. I am posting this for my future self, as well as anyone else who eventually needs to replace the shocks in their Adjust a Strut kits. I have more than 130,000 miles on mine so far, and so far so good.
I have Jeepin By Al adjust-a-struts on a 2012 KK. One coilover is leaking, and has been for a while now. These were purchased from Marlin in 2017 as part of a lift package including A-arms and the whole works. I contacted Marlin at JBA. An employee replied: 1. those (adjust a struts) are...

www.jeepforum.com
For the coilover spring part number, this appears to be an Eibach FSCO-250-1000-G, according to a thread on Nitroforumz. Amazon has these in stock as of this writing. Here is the Nitroforumz thread where I found this info.
I'm trying to do some searching... (I have an idea) Would anyone on here happen to know the Bilstein part number for the JBA coil-over lift? From what I can see... the spring part number is FSCO-250-1000-G. I search that and Eibach keeps shows up, but can't find the exact spring. Marlin has not...

www.nitroforumz.com
Now if anyone can find a part number for JBA's 4" lifted rear springs, that would rock. There may have been different part numbers for the KK and KJ 4" springs. I know mine will not last forever with how much I tow my trailer, and I'd rather not have to combine OME 2.5" lift springs with spacers.
Please post any other JBA lift kit-related part numbers in this thread so we can keep our JBA-lifted Jeeps going. Cheers,
Lauren