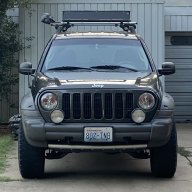 Joined

Dec 23, 2021
Messages

23
Reaction score

9
I have a 2005 Jeep Liberty Renegade model and purchased an Old Man Emu lift kit from Quadratek a while back. Last week I found out the rear control arm bushings are severely cracked and the front lower control arms bushings are cracking. I think(?) I should go ahead and have the lift kit installed and upgrade to JBA control arms — can someone confirm which control arms I need to replace above? I found this on Jeepn By Al but think they are only upper control arms.
JBA Upper A-arms for 02'-07' lifted Jeep Liberty's
Do I need other parts besides these? Are they for the front and rear? What the mechanics were going to install is this, which they said will not work if it is lifted
https://www.oreillyauto.com/shop/b/...e7/v/a/18683/automotive-suv-2006-jeep-liberty
Thanks all!