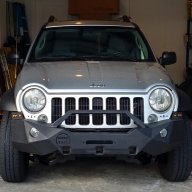 Joined

May 27, 2021
Messages

242
Reaction score

239
Location
Figured I'd post this for both myself to look back on, and anyone who is interested in following along.
My shortened down story of ending up here, I loved sports cars but now working for myself I tow a 5x8 trailer, and the funds just weren't there to have both a toy car and a work car. In the past I had a couple tj wrangler 5 speeds, and it was a really nice blend of having a vehicle I can use for work, but still have some fund shifting around some gears after.
Prior to my kj, I had a nissan frontier 2wd, and I missed having the 4wd for some commercial jobs I get pressure washing having to drive around in muddy grass so back to the search it was. This was 2021 I was looking for vehicles, and used car market (especially down here) was and is out of control. My search was any vehicle 6/8 cyl, manual transmission, 4wd, within 400 miles of me. Top results for me to look at the time were a couple tjs with 150-200k miles at 12k-15k, or a jeep liberty with 99k miles for half of those, and well that's what got me here.
You must be registered for see images attach