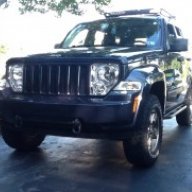 Well-Known Member
KJ Supporting Member
Joined

Dec 9, 2012
Messages

1,537
Reaction score

1,412
Location
You must be registered for see images attach
You must be registered for see images attach
What would you put on your KK if you needed a muffler, tail pipe, and resonator?
The options in the poll seem to be the available ones. I would totally go with a Magnaflow kit, but they stopped making them unfortunately. MBRP makes a good performance model for the KJ but they don't have a KK kit. I am also leaving out Flowmaster since they are too loud for me. The characteristics I want are:
Stainless steel
- I want it to last a good long time
Not too loud
- because my wife deals with migraines that make her sound sensitive
Reasonable Cost
- Willing to pay for a good system but don't have an unlimited bank account
Performance
- a few extra HP would be nice but I consider this optional compared to the above criteria.
The
Walker
is the cheapest at under $200. It also is probably the quietest because it is not going for performance. But because it is made of aluminized steel, not stainless, I would be doing this again in a couple of years.
The
Dynomax
is middle of the road in terms of cost, about twice the Walker, let's say $400. It is stainless supposedly, but I am guessing quality and performance are also middle of the road. Seems a bit loud in YouTube videos.
The
Gibson
is pretty expensive at about $600. The quality is there with a lifetime warranty on stainless components. The performance of its thru-flow design adds 5-15 HP or so they claim. The trade off is the Gibson seems loud to me in the videos I watched. Also, the chrome exhaust tip protrudes about 4" behind and below the bumper, which is not ideal for off road clearance.
Mopar
. Perfect fit, great quality, and quiet. My original one lasted 10 years. But it's $1000!!! The high cost seems prohibitive.
Ok, what would you do? I am also interested in other options that are not on this list. Let me know the pros and cons of your experiences with different brands. And thanks in advance for your thoughts.