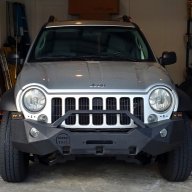 Joined

May 27, 2021
Messages

149
Reaction score

108
Location
So I recall digging through some threads about the differences of rear ends over the years but I can't seem to find the right info of what I've been looking for now that I want to find it again.

From what I remember
02-05's had option for abs, tone ring in diff
06-07's had abs, tc/esp, tone ring near brakes or ends of axles

Reasons asking, unknown to me I had a ruined front end buying my new to me jeep. I found a used front diff housing with 4.10's in it that seems in good shape, I haven't opened up the cover yet to confirm it's all good, but if it is I'll replace some bad seals and any bad bearings and roll with it for now.

Rear end gears and install kits are cheap enough for the 8.25 compared to the 30a so I am leaning that route, but if I can just swap/omit some parts from an existing used one I will entertain that as an option. It seems to me the rear not going to be as universal as the front end, but I wanted to ask.