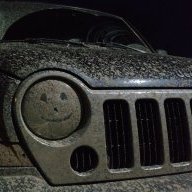 Joined

Jan 20, 2016
Messages

1,228
Reaction score

880
Location
Last night I had to do a full pressure stand on the brake hard stop to avoid an accident. It was scary considering I just got the jeep back together. I got back up to about 65 maybe a minute later and felt a hiccup, almost like I hit a bump, then another minute later the whole Jeep is shaking and CEL is flashing. So I let off the throttle and started looking for a safe place to get of the highway and suddenly everything smoothed out and light went out. Ran fine and started and ran fine later after cooling down and this morning too. Thoughts?
Other things to note.
It was about 30°f
I had just left the house so Jeep was far from warm.
The half tank of gas has been in there since summer.
On a good note it inspired me to check some basic things so I cleaned pcv, throttle body, and IAC. And while I was there reloomed some crusty wire looms.
You must be registered for see images attach