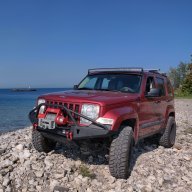 Member
KJ Supporting Member
Joined

Apr 18, 2019
Messages

64
Reaction score

26
Hey guys,
This is just a first look, but I now have the WAM bumper on and ready to go. I'll post more pics of it out in the wild soon
Install would have been straight forward. somehow my brackets had misaligned holes so I had to drill 4 new holes as only 2 lined up, they offered new brackets but I didnt want to wait.
I like the look, but the fitment around the fenders is a little funky. I think I trimmed a bit much off the fender and the bumper is a bit wider than it should be.
Tire carrier is skookum as ****
Tapered roller bearings on a huge shaft
Swings out with ease, it does make some clunks on bumps though, ill be adding a plastic spacer to reduce that
Overall I'm pretty happy
What do you guys think?
You must be registered for see images attach
You must be registered for see images attach