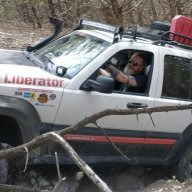 Taking a break from the internet...back soon!
KJ Supporting Member
Joined

Apr 29, 2021
Messages

1,827
Reaction score

1,951
Location
Well folks we are just about a month away from the annual solo excursion to the middle of nowhere and parts beyond. Finishing up final touches on the itinerary. Going to get at least one more short test trip (preferably 2) before the saga begins.
Figured I would start the thread a little early this year so folks can get a feel for the way I plan trips.
First up is the mad dash to get the heck out of Nebraska,
"The Boring State with Virtually No Public Lands."
Its a 12 to 15 hour drive from the Omaha Metro to Kemmerer, Wyoming. Sure there is lots of things to do and places to go in Wyoming along the way, but my plan is to explore Wyoming and Montana as a separate trip. Depending on the Weather and Fires, I'll either stay in a hotel in Kemmerer or camp out on the BLM land northwest of Fossil Butte National Monument.
The next day will be spent digging excellent fish fossils in
one of the quarries
near town and having what will likely be my last "real" meal for quite a while at the small, but most excellent
Bootlegger's Steakhouse
in town. That evening, Ill head over to a "secret" dispersed camping area in the Idaho end of Cache National Forest.
Will do a bit of hiking and rockhounding there the next day. Also throw in some species surveys. This site is known for fossil plants and a few rare extant plants. Its also bear and big kitty country.
From there it's time to break camp and off to Copper Basin near Jarbridge, NV, a remote valley known for its interesting biome and geology. There are fossil bearing layers in-between igneous layers. More eocene(ish) plants and insects! More camping and species surveys there too!
Then deeper into Nevada to the Buffalo Canyon fossil site, with quite a bit of soil and water sampling along the way. This leg also marks the last pavement I will see for a few days.
From here I kiss civilization good bye, and head deep into the heart of Nevada to a "secret" fossil site and ephemeral pools. Camping, Science, and Off-roading. If I'm gonna die out there, this is probably going to be a place as the population is zero from 90 miles in any direction in rugged terrain.
Then after a few days it is off to the pinnacle adventure site and ultimate goal for this trip- Great Basin National Park and a grueling hike to see the oldest known living organisms on the planet- Bristle Cone Pines.
Then on into Utah for more camping and off-roading. Did the science there last year, so I get to chill out this year. Am taking the overland route, so will hit some well known Jeep trails that are far better than the "pavement" at Moab.
From here there are five possible conclusions to the trip, but it is impossible to choose which one due to wild fires, Monsoon flash flooding, sand storms, and so on. I'll either work my way across southern Utah and into Colorado, Oklahoma and Kansas OR I'll head into New Mexico and Texas.
Next Up: Gear Loadout and inventory