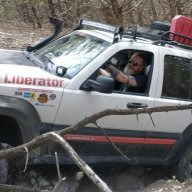 Joined

Apr 29, 2021
Messages

1,877
Reaction score

2,030
Location
I admit it, I am a bit of a cheapskate. I had zero intention of spending hundreds of dollars on a big name cordless impact gun. I am also very lazy and got tired of pulling wheels and loosening axel nuts with a 36" breaker bar. I have better ways to use my time and effort.
So, I hopped online and started searching for an impact gun set that wouldn't break the bank AND do what I need it to do.
After a while I came across the
Avid Power 20v 350ft/lb Impact Gun
on Amazon.
You must be registered for see images attach
I rarely need a heavy impact gun. It sure makes rotating tires or changing a flat easier though. It is one of those tools that if you don't have it, you really need it and vice versa, When you have it you don't use it.
I got this set for 85$ USD via amazon. It was on sale. At time of writing it is 99$ USD with an extra 20$ off at check out. Amazon claims it is regularly 139.00USD
This has been an invaluable tool for me. It does the job as expected. It really is a fast charge battery. The included sockets are of questionable quality, but perfect for pulling lug nuts. I have also used mine with a 36mm socket to pull axel nuts. Even with that bulky socket on there it did the job better than expected.
Now they claim 350 ft/lb of torque possible. I'll laugh at that claim. As checked on a dead VW hub with a spare wheel and a properly calibrated torque wrench, I tightened up the 19mm lugs till the wrench quite turning them. They torqued in at an average of 110ft/lb across the four lugs.
I also tested installing a replacement rear lug stud on the Jeep with this impact gun and a lug install tool. (ie: a really thick washer from a corrugating machine install I did like 20 years ago) It did the job and made me very happy as I had to replace 6 studs, front and back on the jeep when I first bought it and darn there busted a gut doing it by hand.
The tool comes in a fairly cheap feeling case and has a battery, a charger, and four sockets: 1 x 11/16" Socket (17mm), 1 x 3/4" Socket (19mm), 1 x 15/16" Socket (24mm), 1 x 13/16" Socket (20mm), plus the gun body itself.
It also includes one of those useless belt hooks which you can install yourself or throw in the recycle bin like I did.
As an occasional use tool, and something handy to have in the back of your Liberty when off roading, it is the best **** for your buck.
On my Bert, using the rear cargo area socket I converted to 120V with a 1000W inverter it takes 48 minutes to reach a full charge on a flat battery. Indoors on mains, I get a full charge in 56 minutes
This is not to say I have a few complaints. The kit bag is cheap feeling and won't likely survive heavy use. While I was able to get a spare battery for it for 32USD, at the time of writing these are not available on Amazon. I have a thing for black and red coloring, but the overall design of the tool looks and feels uncomfortable in the hand
UPDATE: the
impact wrench only 3.0 Amp 20 volt battery
is back in stock for 45$.
All-in-All, I feel this is an affordable occasional use battery operated Impact set well worth the competitive pricing. Pick one up and stuff it under the back seat. Make sure the battery is charged and make your emergency use tool kit a bit less stressful.
I would not recommend this tool for daily use. Get you a compressor and a proper air impact for that.