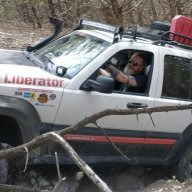 Turning dirt roads and dead ends to dust.
Joined

Apr 29, 2021
Messages

1,928
Reaction score

2,173
Location
I decided to wait until I could report on this bad boy in all seasons. With the cold weather here, I took the Swag out for a weekend of below freezing camping.

If you are unfamiliar with a swag tent, think of it as a cloth coffin. These are based on an old Ozzie military design. Like everything else ARB makes it is HEAVY duty with emphasis on the heavy. This is an old school canvas design with a heavy duty water proof floor. So waterproof in fact you should move the tent around a bit each day if you plan to stay in one area for a bit- condensation builds up underneath it which attracts scorpions in the desert and risks mold everywhere else. As a side note, if not staked down, it will float away during heavy rains...

Shooters vents at the head and foot. Easy access entry flaps on each size. Heavy gutters around every zipper to keep the rain out. A removable QUEEN size memory foam egg crate mattress. The three bow ribs and two cross poles are anodized shock corded aluminum. All guys and ties are reflective polyweave cord. Flap loops are large easy to use toggles. Zippers are the biggest, chunkiest YKK zippers I have ever seen. The bug screens are pretty standard mesh. Heavy duty PVC floor with a five inch flood resistant side wall. There is an integral hat rack built into the head and numerous storage pockets internally on each side.

At 1800L(about 64 cubic feet) internal volume it comfortably sleeps two adults or one Lab Rat and a very fat pug. ARB claims the unit weighs 14kg (around 30lbs) but I am callin' Bovine ***** Excretion on that. With mattress and the matching ARB bag for it you are pushing closer to 23 kg (50lbs). So yeah, this is NOT a flimsy pit of ripstop like just about every other tent on the market. Truth is I find it a bit heavy to be lugging on and off of a roof rack and in a Jeep Liberty, when rolled up, it either takes up your entire back seat or it goes on the roof. Your call.

I bought mine used in mint condition for a very good price far below retail. It has been at altitudes from about a grand above sea level to 10kft. It has experienced sand storms, derechos, sustained winds pushin' EF0- you name it. It has buried in a sand dune and lake effect snow. Not once has it leaked or collapsed, though in one instance I neglected to stake it down and it bl.ew about four meters along the ground without collapsing. No issues with internal airflow or condensation. It is amazingly breathable to the point Carlos Warpug will sleep in it in bother freezing weather and Nebraska Stew summer conditions without thought. (Not that he thinks much...) The integral mattress makes it the most comfortable sleeping surface I have ever owned on any terrain in any temperature, though I often have to fight fat-pug for the best spots to sleep.

In short- this is one wicked comfortable, durable place to sleep. Buy you one of these and it will be the last Jeep-camping tent you buy.

That is not to say there are not a few issues.
First and foremost if you are unfamiliar with canvas tent care, skip this one. Second, the weight pushes the limits for a scrawny old fart like myself. Third, the price is like everything else ARB- about twice what it should be. Well, that and availability in the US is nil...I just about filled my shorts when I found mine on Craiglist locally.

The built in hat rack for those of us that wear a proper hat is strangely on the exterior of the head vent under the built in rain fly making it the perfect place for creep crawlies to move into your hat. The zippers are so bulky they can be a bit difficult to get moving. The seams are not sealed and the heavy duty stitching makes it so one can see daylight through some of them so you are gonna have to properly seal those yourself.

The toggle loops for the door screens are too long, making it impossible to roll them up out of the way. The included stakes are garbage as is true with every tent on the market. Finally canvass tenst require special care that most modern folks wont be bothered with.

All that aside however, you basically get the best a tent can offer.