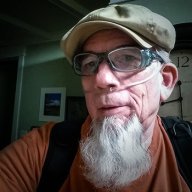 Joined

Jul 31, 2015
Messages

429
Reaction score

2
Location
I want to add a Rola Roof Rack to my KJ so I can carry some of my oxygen tanks up there instead of inside the cabin (can you imagine the damage a couple of those can do flying around loose in a roll-over). So, I have ordered the materials and followed the instructions in a "
How To: Roof Rack Crossbars on the Cheap
" article. The hardest part was getting the rails bent slightly on each end. The roof isn't completely flat, so a little bend keeps the rails from making contact with the roof through vibration or added weight, or possibly making my KJ sound like an out of tune harmonica driving down the road with the air rushing through that tiny gap between rial and roof.
My first thought was a machine shop. I've used a local shop for other metal work here and I did see a pipe bender mounted to his shop floor. But he said he didn't have the size die I needed for my 1" (ID) fence rail. I called some local electricians and one guy said he could do it today, if I bring it to a town 22 miles away. I did that and then he said he couldn't do it because he didn't have the right size die (needs a 1¼", which also works for my 1⅜" OD pipe). Bummer. I didn't really need a 44 mile trip in the rain today.
When I got home, I called more electricians, but everyone was working, so I had to leave a bunch of messages. About 5:30PM a guy calls back and we discussed what I wanted to do. He said he thought he had a 1¼" EMT bender. I asked him to make sure, he said he was holding it in his hands. He said I could come over right now and he'd take care of me - 16 miles away.
I drove there and was greeted by 2 big dogs, one real friendly, one not so much. Richard, the electrician, was standing in the open doorway of his shop. We talked about it, I had him do a test run on a piece of scrap I had (I cut a 10' pipe to lengths already and brought the scrap with me). Success! He bent all 4 ends. He seemed to be waving off a charge when I asked how much, but I saw online that these benders go for nearly 200 bucks, so it's not a cheap tool and he is a pro who prob'ly gets 60 or 70 bucks an hour or more (that's what I got when I worked by the hour 11 years ago). I handed him a twenty and asked if that was fair. He said yes and I was on my way home.
Yeah, kind of expensive for some roof rack rails, all told, but worth it to me to have a much lower profile rack that I should be able to easily reach for my oxygen tanks and anything else I might stow up there.
I don't have any photos yet. All I had up 'til today was just a few parts and the bending was done under an awning that would have forced me out in the rain to shoot. But I'll get some progress shots. That topic I posted a link to has good photos too.