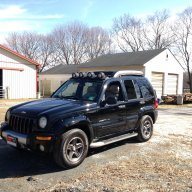 Joined

Feb 23, 2018
Messages

381
Reaction score

102
Location
So I went in about three weeks ago to get my Airbag recall done as the module finally arrived at the dealer, and I had lots of free time on my hands. Got there and about 10 minutes later they told me they couldn't do the recall as my backseat was full of stuff(water, TP, clothes, dry goods, etc...). Whoops. Rescheduled and cleaned the backseat out.
Go in and all seems well. They finally tell me I'm done and I thank everyone. I go to put my stuff in the back seat, and there's some panel tools on the seat. I walk them back in to return them and go to get something to eat. As I'm driving out, I notice my airbag light is on. Weird. But it's happened a few times since I've had her where it sticks on after the self-checks, so I pull over and turn her off and back on. Light still on. Drive back to the dealer and explain what happened, and they page my service advisor. He shows up,and am then told that when I drove it in, the light was already on. WHOA. I told the guy no it wasn't, and he was like, yeah it was, we forgot to tell you, but it's not our fault, because you told the other guy it comes on sometimes. They then proceed to throw excuse after excuse at me, like well your engine sounds rough, it's over 15 years old, you had a water bottle in your front seat, and you shouldn't store water there, you have a OBDII reader, etc.... but he'd be willing to look at the system, starting at $150. I left at that point, because I pointed out that this is the 2nd time I had recall work done and left with a light on that wasn't on before(Last time was an oil sender after the hitch recall, which I just think was coincidence). I had to go back, b/c I left my laptop bag there, and I also found a video I took 3 days earlier that showed my airbag light not on and also wondered why the person who started to work on it 7 days earlier didn't note the light being on. I also asked if they could replace the recall module, b/c maybe it was bad. He said no, and I left again.
Here's what it looks like when I start up:
xc_hide_links_from_guests_guests_error_hide_media
I was talking today to my weekend co-worker that I haven't seen since the shut downs, and he works in the service dept at Toyota as his normal job. He said it was weird that they would do the recall at all if there was a check light on, because there's no way to check if the recall worked/was done properly if there's already a problem. He also said that they should have known what the problem is when they hooked up their computer to mine. I checked my invoice, and they made sure to put the light was on, but also that there were "No Diac" which I assume is Diagnostic Codes.
You must be registered for see images attach
I tweeted about it, and Jeep tweeted back, so should I try to see if they can authorize maybe another dealer to look at it, since I feel there's strong evidence that maybe this Dealer did something, and are just hoping i'll go away? Also, is it weird that a system like the air bags won't reveal exactly why the light is on? I would assume that safety systems would be a little more sophisticated.