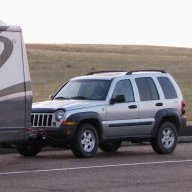 Joined

Dec 21, 2009
Messages

59
Reaction score

20
Location
Thanks for the compliments.

I am happy to report that everything continues to work properly. I did not overlook anything or accidentally damage anything related or otherwise. I don't see any indication of leaking gear oil around the differential cover or from the new bearing seals, though a proper inspection would require removing the rotors.

As our Liberty is getting driven, I am making a conscious effort to exercise the parking brake every time. I have noticed the parking brake lever has been creeping higher to fully engage the parking brake. If it continues, I may have to get under the vehicle and adjust them a bit tighter.