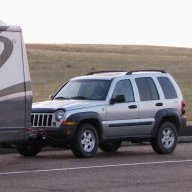 Joined

Dec 21, 2009
Messages

59
Reaction score

20
Location
Read through this post with many pictures, how for $68.00 I went from.........
THESE Non-working parking brakes, to
You must be registered for see images attach
to THESE fully functional parking brakes that are assembled better than new ones.
You must be registered for see images attach
-----------------------Beginning Of Post---------------------------------
Hi All, I am facing a project that I have never handled before.
My wife loves her precious 2006 Liberty Sport 4x4 with 87,000 miles. It is in really nice condition, both inside and outside.
Backing out of the garage made some strange noises in back which initiated my inspection to find the parking brake pad material on the right rear have separated from their steel shoes. One pad on the left rear came off with just a touch. I also found the large round supporting backing plates are no longer attached to the caliper brackets. They were attached with 3 small screws (later learned 3 rivets) that the heads rusted off so now the backing plates flop around, hence the parking brakes just flop around within the mini-drums of the rear brake rotors. I see that I have to pull the axle shafts from the differential to address this properly of which I am willing to do. I was surprised to see the parking brake system so badly rusted, including the backing plates.
I looked on-line for new backing plates but they are not sold individually, sold only as part of a full assembly that costs nearly $400 per side.
Not only because of the $800 expense, but the caliper bracket mounting nuts (4 per side) are very badly rusted. Heating them red hot to break them loose would surely damage the wheel bearings being in such close proximity.
I considered removing everything and live without a parking brake, but we rely on it during our travels out west in wilderness areas, so I am determined to rebuild the parking brake system.
How have other people on this forum, handled this type of parking brake failure?
Last edited: