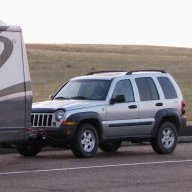 Joined

Dec 21, 2009
Messages

59
Reaction score

20
Location
We own a 2006 Liberty Sport 4x4 with the 3.7L gas engine, now with 87,000 miles. We bought it used in 2009 with 29,000 miles. I have been real good with maintaining the vehicle.....or so I thought.
One thing that surprised me about the 3.7L engine is the scheduled frequency the spark plugs need to be changed. I assumed they were 100,000 mile plugs like my other two 2006 & 2007 model year vehicles. Our Liberty started developing engine hesitation at around 60,000 miles. I eventually decided to replace the spark plugs at 75,000 miles installing the exact same spec'd plugs, and the engine immediately reverted back to good normal operation. The center electrode in the spark plugs was worn below the ceramic insulator.
I also had some automatic transmission behavioral quirkiness developing. About 10,000 miles after changing the spark plugs, I replaced the transmission fluid & filter and that quirkiness went away.
I recently performed a serious parking brake rebuild here, posted with many detailed step-by-step pictures.
https://www.jeepkj.com/threads/2006-liberty-sport-4x4-total-parking-brake-rebuild-for-68.77044/
The project required draining the rear differential, so now I have that fluid changed. The only original fluid today is in the transfer case.
So I learned that scheduled maintenance is critical on a 2006 Liberty 4x4 with 3.7L engine.
BTW: For those interested, filling the rear differential with new gear oil was easy using this affordable suction gun from Harbor Freight.
https://www.harborfreight.com/oil-suction-gun-95468.html
A bottle of gear oil takes only two draws to empty. The gun holds 17 ounces. It is the exact same size as a standard grease gun.