USN, Computer Tech, Personal Trainer, Recently a student. IT degree (Dec. 2013)

Computers, Reading, Fishing, Hunting, Working Out, Jeeps!
Birthday

May 10, 1959 (Age: 63)
Location
Gender

Male
Occupation

IT Tech
--Prof
________________________________________
Prof's 2007 Liberty Project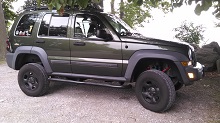 927/948 OME Springs*Bilstein Shocks*JBA Upper Control Arms*General Grabber AT2 255-70-16*Rage Black Widow Roof Rack*Viper 3606V Alarm System
30

Content you have posted has attracted 500 positive reactions.

20

Your content has been positively reacted to 250 times.

15

Content you have posted has attracted a positive reaction score of 100.

10

Your messages have been positively reacted to 25 times.

2

Somebody out there reacted positively to one of your messages. Keep posting like that for more!

20

1,000 messages? Impressive!

10

You've posted 100 messages. I hope this took you more than a day!

5

30 messages posted. You must like it here!

1

Post a message somewhere on the site to receive this.