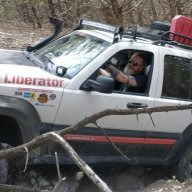 Turning dirt roads and dead-ends to dust.
KJ Supporting Member
Joined

Apr 29, 2021
Messages

1,793
Reaction score

1,849
Location
Before I go dumping cash into a set of Bosch injectors*, was curious if anyone had some troubleshooting suggestions.

Keep getting a random, intermittent P0300 in conjunction with P0306. It self clears just as randomly as it appears. Have had this since the day I replaced the plugs and COPs. (Which were replaced as it was #4 and #6 misbehaving before)

Plugs are the properly gapped NGKs yinze swear by and have less than 4k miles on them. COPs are all new ENA Blues (I know, I know....but I ain't spending MOPAR prices on a high mileage beat it up toy...LOL) with same mileage as plugs.
Shockingly, compression is a solid and relatively consistent 1400ish kPa (about 203PSI) across all cylinders with the usual, acceptable variations between tests.

While troubleshooting, I have gone as far as swapping plugs and coils to different locations. The codes remain the same (and random) indicating #6 is misbehaving...until it isn't. All plugs and COPS are uniform looking- no indications of arcing, sparking or the usual "bad" signs.

While on my trip I was "stuck" using any number of combinations of 85, 86 and 87 gas, some with ETOH and some without depending on where I could get fuel.
At home I run the 87 as the manual suggests and it is 10% ETOH.

Am I correct in my thinking that this original stock, OE injector is the source? I know very little about fuel injection systems admittedly.

Is it a viable plan I just buy one cheapo injector off Amazon first strictly for troubleshooting purposes before spending the chunk on the good Boschs?

Is there some other part of the system I should be looking at that my lack of experience with these engines in overlooking?

Any advice greatly appreciated!


*yes I am a hypocrite as I put cheaper 3rd Party COPs on, but insist on OE plugs and injectors...but only because my hook-ups at NAPA and O'Reilly couldn't get me a huge discount on a set COPs, but can get me the injectors at cost...also, like the old Monster cable scam and stuff dude...