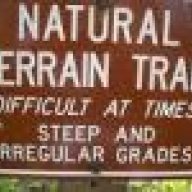 Joined

Nov 10, 2010
Messages

3,075
Reaction score

273
Location
Yeah, I know; harsh title. But I made you click on it:gr_grin:

OK, So I've been searching for a replacement for my beloved ole KJ. And in my searching, driving, reading, asking, and web browsing; I have noticed a few oddities.

While driving a 2014 Trailhawk last Saturday, the infotainment display crapped out...just shut off and nothing. Apparently it just died (salesman, manager, service guy, nobody could get it back)
While talking to a coworker today, she mentioned that her '15 KL Limited has been back for 2 transmission issues and a new display screen.

There also seems to be a lot of KLs (mostly trailhawks, because that is what I'm searching for) that have been flagged as "manufacture defect/lemon law"
And HJ even mentioned that his KL is in the shop often.

I know we are all Jeep fans here, and want to root for the home team. And yes, I realized that every make/model has it's quirks or bad apples...but are there things about the KL that aren't up to *****?