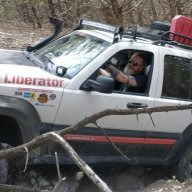 Proud owner of a nice, cheap set of center caps.
KJ Supporting Member
Joined

Apr 29, 2021
Messages

1,626
Reaction score

1,470
Location
Hey gang!

I'm shopping around for various bits that some of you may have lying around since it is about to rain sideways here for the rest of the day
I'd rather pay a fellow KJer (Cage-er?) than some faceless used parts dealer on the web charging more for used than new parts and I know some of you are lucky enough to have the space for a parts corpse...
Truthfully, I don't really need any of these beyond the seat belt assemblies (as mine is dangerously ragged) but my VW restoration genes are still active and I cannot seem to ignore my ridiculous urge for things to be "just right"...

Anyway, I am looking for the following quality of life bits:

Door mirrors, power: GTP power, fold-away
control switch assembly P/N 56010696AA
Wheels, OEM Steel:
4 each center caps- any condition- P/N 52090401AA or 5HT59CDMAA (? not sure of the difference between the two) Prefer the cast aluminum or stamped aluminum over the chromed plastic.
Seat Belt Assembly:
Driver side front shoulder P/N 5HG331J3AN
Driver side front lap latch P/N 5JW101D5AB
Center console armrest lid:
entire part or just the vinyl cover, in black, mine is gray and has years of literal elbow grease in it I cannot get out.
Rear Swing gate:
wiper motor cover P/N 55076650
panel, liftgate, lower P/N 5GE89BD5AJ or 5GE89ZJ3AJ
Door handles:
For some reason my Sport has lots of Limited trim parts and the chromed door handles look like garbage. Sure, I can refurb them to black, but I don't think it is worth the effort...and it is driving me insane that they don't match the swing gate handle... So Id be interested in either all four doors in black OR a swing gate in chromed finish.
OEM Radio:
Mine has the "RBK" but the volume control is wonky and I am tired of having go get clean skivvies as it tends to turn itself up to MAX at random, yet won't let you turn it back down...

And, don't laugh too hard, an OEM Hella light bar...in any condition...because my wife says they look "cool"...and you know the rules about wives and wrenching on junk cars...and Hella branded stuff speaks to me as a reformed VW nut.

I can provide shipping materials and return labels if need be. If you are relatively local to the Omaha area, I'm willing to pick-up/tear out the parts myself and I'll throw in a case or bottle of beverage of your choice (and perhaps pick your brain a little bit)

Shoot me a PM!