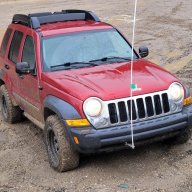 Joined

Mar 27, 2023
Messages

27
Reaction score

26
So I looked around but didn't really see this variant of the cheap 1" lift discussed, but this seems to fit with what I'm thinking and I'd be interested in any feedback. My plan is to just have a cheap easily installed and removed setup for offroad use. I've never really done offroad aside from driving my truck through a junkyard in northern Michigan, and I've got 3 teenagers - I want to take the libby out with them to see if I can spark an interest. I've acquired a set of 15" steel aftermarket wheels from a '96 Grand Cherokee and mounted a set of Forceum 235-75R15 mud tires, all acquired from salvage yard for about $170. Mounting and balancing was almost as much as the materials at $150! They almost clear as is, just a little rub on the front inner fenders at full steer.

Anyway, I've read the pieces of this here and there, here's what I put together as my idea:

Front, swap strut forks from a Jeep Liberty KK. I've read they're 3/8" longer and give 1" front lift. Looks like these might cost at most $5 each as "small brackets"
Rear, add 2 upper spring isolators per side. This is hard to figure out because my local yards don't seem to have a price, but the closest might be "shock bumper" at $7 each

Total cost would be estimated at $38. Not too hard to set up in a Friday evening, go out and have fun on Saturday then return to stock configuration Sunday.

Thoughts?