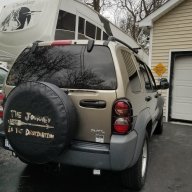 Joined

Dec 19, 2018
Messages

217
Reaction score

1
Location
1st let me say - Sorry all - I'm starting a NEW THREAD from on-going discussion/thread:
Driveway Snow plowing
.....
Also I apologize up front, I'm still new to the Jeep Liberty scene, still gathering knowledge from seasoned/experienced good people like yourselves, which is why I'm here asking so many questions.
This may have been covered (prob. multiple times) before.
I Just wanted opinions/advice on this. I need to change the upper and lower ball joints on my 2005 Jeep Liberty I have. The boots are ripped, but NO play
yet
in the joints .
I'm trying to get information to make a decision on OEM Replacement UCA's
I'm looking via Rock Auto (where I intend on getting other items) at either the Mevotech TTX (greaseable w/ Poly Body bushings or Moog Problem Solver NON greasable.
Also while I'm taking everything apart, I'm going to replace the Struts & Shocks/do a 2.5" OME spring lift. The Liberty just looks a bit WIMPY at the stock height and the bit of lift with the 927 OME front springs will help me with my Driveway plow & with the snow (I snow plow Driveway's like 2% of the time, and MOSTLY use the Liberty as a SOCCER DAD TAXI).
It seems in the Jeep world there are really good upper control arms (UCA's) from/made by JBA that have replaceable & greaseable Moog ball joints
made for lifts/off roading,
BUT are a crazy $400 a pr. If not doing a crazy lift or no lift at all, which I do not
really
need. I found and heard others getting from Rock Auto OEM replacement UCA's, either MOOG p/n CK3198 $146 a pr. - But they're NON-GREASEABLE, or MEVOTECH Terrain Tough TTX p/n CTXK3198 GREASEABLE and have poly body bushing also for $146 a pr.
(I
know the JBA's are the BEST choice, Moog is a great brand which I usually go for (but these are not greaseable) , I'm not sure about MEVOTECH?)
There was one person on the forum (I believe jeeptoino68) who responded that he used the MEVOTECH UCA's. I tried to reach out to him
to see how they're still holding up, how was the fitment/install, and any issues
, - but no response - yet.
He supplied a MevoTech Control arms video. They sound great, just not sure it's marketing ploy or if they are what they say they are.
xc_hide_links_from_guests_guests_error_hide_media
The lower Ball Joints MOOG has a GREASEABLE replaceable ball joint - so no brainer there...
I'm also trying to make sure I have everything covered for the intended Struts & Shocks/do a 2.5" OME spring lift
This is from an on-going discussion/thread :
Driveway Snow plowing
https://www.jeepkj.com/threads/driveway-snow-plowing.64548/page-3
LAST COMMENTS:
↑tommudd said: [URL='https://www.jeepkj.com/goto/post?id=758806#post-758806']↑
[/URL]
Upper ball joints are built into the upper control arm, you have to replace the whole arm unless you have the JBA UCA's
As far as lowers not that bad really , you can rent a ball joint press from autozone etc, well you give them money they give it back when you return it
I just remove the whole spindle, throw it in the vice and wham, bam thank ya mam , its done

Use only good greaseable LBJs from Moog
Thanks once again Tommudd !
Yeah I looked into it (You Tube) not too bad - how bad is it to get the axle out of the spindle and what size nut/socket is it? I didn't catch that on any video's I watched..
So other than maybe an alignment and maybe coming across other worn out parts, is this everything you think I'm going to need?
Also if you don't think I really need the JBA UCA's ($400 pair) for the lift reasons, maybe I could save some cash by buying OEM replacement UCA's (like MOOG CK3198 replacements $146 pr NON-greaseable), I also came across MEVOTECH terrain tough TTX pair p/n CTXK3198.
GREASEABLE
also for $146 pr)
(I
know the JBA's are the better choice, Moog is a good brand (but not greaseable) , I'm not sure about MEVOTECH?)
Like others have mentioned on the forum.
And then put the saved money towards other items?
Such as:
For ease of installation, If I wanted to have the spring and struts pre-assembled before disassembling the Libby to use the existing mounts/hardware etc. I would just need to add upper left and right strut mounts to my parts list (any recommendations) Moog p/n K3189 front right $63, p/n K3190 front left $65 (notes say they include bearing, not sure about isolators)?
And
Maybe Isolators REAR upper & lower (Moog upper p/n K160017. $24 pr. lower p/n K160018. $36 pr),
and front (not sure mounts would come with new ones Moog p/n K3186. $30. pr) ?
My friend has a nice spring compressor (wall mounted) or I could take all the new parts to a shop w/ a spring compressor and pay to have put together.
And NOW LOWER BALL JOINTS too (Moog K80767 $70 pair ) ?
On top of ;
Front springs OME 927 $183 pr
Rear springs OME 948 $182 pr
Front struts Bilstein p/n 24139168 $88 ea. = $176
Rear shocks Bilstein p/n 33185859 $84 ea. = $168
That's just under $1150 so far...
I already purchased the teraflex front bumpstops p/n 1903200 , and four (4) hockey pucks for the rear bump stops.
--------------------------------------------------------------------
I also Have to do Brakes all around - which I already picked up new rotors (4) and Pads for fronts & backs..
-------------------------------------------------
Oh, I also have the infamous gas burp problem with the ethanol in the gas around my area.
So I will be doing the ;
HOW TO: fix the KJ fuel burp plague!
https://www.jeepkj.com/threads/how-to-fix-the-kj-fuel-burp-plague.57056/
I just got the hose/flapper valve fro AMAZON
..
..