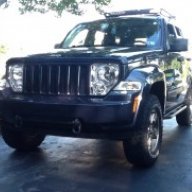 Joined

Dec 9, 2012
Messages

960
Reaction score

675
Location
Hi All,
I replaced upper ball joints and sway bar links lately, which improved the ride a ton. Now I am hearing a random rattle, sort of like a rattling heat shield or something, from the passengers side. I can't find any loose heat shields. The only thing that seems a bit loose is the right side CV shaft.
You must be registered for see images attach
Is there supposed to be that much space between it and the differential housing (about 1 cm)? Thinking maybe it got pulled out a bit when I had the ball joint disconnected and what I am hearing could be play where it connects to the intermediate shaft or the diff itself. The noise is definitely on this side, but doesn't appear to be rotational and seems sort of random.
Could someone take a peek under their KK and tell me if that much of a gap between the passengers side CV and diff housing is normal? Thanks!
Edit: the CV boot on the transfer case end of the front driveshaft is intact. I wanted to put in this detail as it is a common failure point that causes noise, but it seems ok on mine.
Last edited: