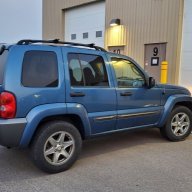 Joined

Jul 19, 2021
Messages

3
Reaction score

0
I have a 04 KJ Rocky Mountain Edition
3.7L, 42RLE trans, 242-J t-case, Trac-Lock, skids, tire package, towing package, etc

My T-case is NFG and needs replacement, luckily I have 22 KJ's to choose from between the local wreckers, half of which will have a 242-J.

I know the 04 is a one year only for the engine so my question is does this apply to the transfer case as well. "Electrical etc" or will any KJ 242-J just hook up fine.
If it's an 04 only which would be my best bet but that leaves me with just 1 Jeep to go look at.

What is a good way to test the condition of a used t-case at the wreckers before fully pulling it out?