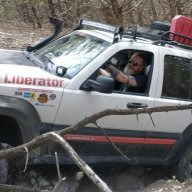 Joined

Apr 29, 2021
Messages

1,892
Reaction score

2,046
Location
LabRat's Honestly Blunt Review #1

Talking tires on an off-road vehicle forum is like talking oil on an air cooled Volkswagen forum or going to a car show and talking Mopar vs. Ford vs. Chevy.

So, in the interest of science, here's a review of Toyo Tires Light Truck all terrains on an 07 Liberty in the size on the sticker.

This review is based on a stock suspension 07 Liberty Sport gas automatic using OE powdercoat steel wheels after exactly 5000 miles. 1.5k off pavement, 1.5k freeway, and 2k in suburbia.

price: wife bought them for me just so I'd "…take a ******* vacation and go away for a while…" She ordered them online via WalMart and had them delivered to the house. Total cost: 597.63 for 5 tires, installation, and Road Hazard set of 5 OEM refurbished black powder coated steels 297$ delivered to the house…also from Walmart.com

installation/mounting/balance :
Free to me at the local WalMart. Say what you want about Wally World, but they are everywhere and that Road Hazard is covered at every single Walmart auto center. One wheel was tough for them to balance as it had a bend. They labeled it and mounted it as the spare. Emergency Use Only Max 30mph. Good enough for me.

performance: holy **** what a difference. Bert rides, steers, and stops better than it did on the cheap random off brand street radials on OEM alloys.

Noise: QUIET on pavement. The usual off road tire roar isn't present. There is a slight hum if you rolling with the windows down, but that is to be expected with off road tires.

The real deal:
First week in suburbia running to and from work and all over Omaha on surface and freeways the improvement was noted even to my non-wrench head wife. Over 3k miles a week after installation in Colorado, Utah, Nevada, Idaho, Wyoming, and Nebraska and these tires outperformed my expectations.Check my other threads- Amasa Basin, Sinbad, Five Mile Pass, Grand Mesa, Gear Basin NP, Moab. Kairopowits. Bonneville. Dugway. Pony Express Trail. Burbank and Conger Mountain. I80.I70.I76. US 6/50. And lots of places that have no name.
These tires took it all.
At the ******* filthy **** hole that is 5 Mile Pass OHV area, I had multiple foreign objects stuck in the rubber. Never got a flat or any air loss.
Spare has 0 miles on it.

So enough bragging, the one con is that with brand new stock suspension, on the 07 Liberty sport the can and will rub on the stupid shark fin that sticks out of the aft side of the front wheel wells. With stock suspension, just don't make sharp turns…

Minor con is they bloom brown with Meguiers tire protection unless you reapply it regularly.

all in all, I feel these are an excellent budget alternative for the daily driver/weekend warrior.
We can't all justify the cost of 5 Falkens. In my opinion and experience, the Toyos are a perfect budget alternative.

these are often listed as 29 or 30 inch tires. Brand new mine measured 30.49 inches OD on the OE 16" steels.