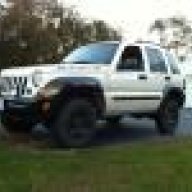 Joined

Jan 25, 2012
Messages

358
Reaction score

1
Location
My current plan was to add a small lift, either Ironman or OME to get about 2.5" and upgrade to 245-75r16's...then I started having trouble with my 4wd, so it's somewhat on hold until I get that straightened out...but I'm really debating doing the lift at all. I feel like my money can be better spent.

I'm looking at at least $2000 for a good lift and five tires. If my math is correct, a 245-75r16 will be 30.47" tall. Stock tire is 29.3"....so I increase my tire size by 1.17"....giving me a grand total of a whopping .59" additional ground clearance. I know that any bigger tires than that and I have to add in re-gearing as well, so even more expensive.

Whatever I do I want to do it right, but funds are not unlimited. I just don't think gaining a little over 1/2" of lift is really worth $2000+. Granted I'm going to spend $1000 on tires either way. But I'm thinking about staying with stock tire size in duratracs and spending the rest on skid plates, tow hooks, lights instead.

Also, this is my DD, but I do like to go on trails and have fun in the snow. In a perfect world I would like to keep my liberty as a more off-road capable than stock DD, and basically my winter vehicle, and get a TJ built completely for off-road.

Opinions??