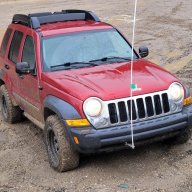 Joined

Mar 27, 2023
Messages

32
Reaction score

29
I have a 2007 sport which came with high back cloth seats and swapped a set from a 2006 Limited with low back leather seats - with power and heated seats on the front bucket seats, but for the time being I'm just using the manual bases from the 2007 sport because rewiring would take more than an evening.

Anyway, now the passenger airbag inactive light comes on after I finished the passenger seat swap yesterday.

I was actaully a seat engineer for a couple years so I'm generally familiar with what the sensors are. There may be a pressure sensor to detect the weight of a passenger, a position sensor because the airbag can't deploy if the seat is too far forward, and a seatbelt sensor to inactivate the airbag if the seatbelt isn't in use. I don't know this seat specifically to know if these are present, my knowledge is based on 2012+ Dodge Journey seats.

I don't think they added a side airbag in the seat for 2007, did they? I'd have noticed a yellow connector since that's what they use for anything airbag related.

I think it should just be the seatbelt sensor, which should be the same connector and pinouts, shouldn't it? I might have missed something bolting the seat pan onto the base possibly... Or is there a different pinout?

I've got a CD with shop manuals on order from rockauto.com, will that come with wiring diagrams I'd need to look into this stuff?