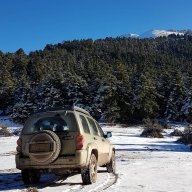 Joined

May 25, 2022
Messages

9
Reaction score

6
Hi Guys - been lurking on this forum for quite a while -got a KJ 3.7 renegade with almost 200.000 KM (124.000 miles) which has been through some serious abuse during it's lifetime.

Long story short - My car has been long overdue for a rear bushings overhaul so I decided to replace everything last week. Was running short of time so I had it done by a shop locally.

Bought new LCA (assembled with bushing) and the bushings / BJ to be pressed on the tri link. Note that I am running stock wheels with 235 / 70 / 16 BFG MT and OME 2.5 Lift (shocks / springs).

Immediately after getting my car back and driving it I noticed the dreaded rear clunk. I had to travel with the car since we were filming through the weekend in some remote locations where the problem became WAY more evident. Anyhow - got some time tomorrow evening to work on the car, since I have read almost everything concerning my issue - I am pretty sure (!) - that my issue is going to be on the UCA area and not the LCA. So that are the steps I am going to follow - please fill free to chip in if I am missing anything.

1. Check LCA assembly for play
2. Check LCA torque specs / bolts

If both are OK move to UCA

3. Make sure that the BJ bolt is in place and there is no evident play
4. Jack the vehicle and loosen the 2 bushing bolts
5. Lower the vehicle and tighten according to specs

At this point should test if the issue is remedied - if not move to step 6

6. Remove the whole tri-link assembly
7. Tack weld the BJ + Bushings
8. Follow step 4 and 5 again

If still it's not fixed - I should either order a new one or fabricate one since the issue would be deformation.

Any other ideas / suggestions? The car was "fine" before working on my Rear CAs, so there must be related.