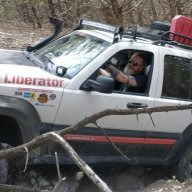 Headed off-grid. You suckers enjoy "civilization".
KJ Supporting Member
Joined

Apr 29, 2021
Messages

1,767
Reaction score

1,761
Location
Okay gang, here's my noobiness shining again…
You may remember I have been chasing an intermittent "General Random Missfire" with no other codes for quite some time. I replaced the usual suspects and those when a targeted code was available. So cops, plugs, injectors, wires, etc.

Then today months of troubleshooting notes suddenly came together when a new issue appeared.

I'm curious if any of you draw the same conclusion. What follows is a transcript of my "lab notes". Hopefully will help me now and help others later.

Feel free to TLDR and skip to end.

Original Codes at 168k miles (time of purchase) were general random misfire. Misfire on #4. Misfire on #6.
Replaced plugs with proper NGKs. Observed #4 and #6 COPs showed carbon from arcing. Tested with knock off COP from Amazon. Confirmed faulty COPs. Replaced all with Bosch. All Mils cleared and stayed gone. Went on Great Basin Excursion. After about 2500 miles, #6 MIL reappeared along with General Random Misfire. Fuel Mileage dropped to 10-12mpg.
Treated with Techron twice and all Mils cleared. 150 miles later rough idle and P0300 returns intermittently. Suspect #6 bad injector. Tested with cheapo Amazon injector. Got codes to jump. Installed 6 Bosch injectors. All codes cleared and stayed gone 1200 miles. At 175k P0300 returns and auto clears intermittently, but rough idle not present. Code appears at speeds above 30mph but clears when parked overnight. Treated tank of 87 ETOH free gas with 8 oz of Marvel Mystery Oil. Mil self cleared after a quarter tank. At half tank mil only appeared at freeway speeds. No codes in memory. ?!?!?
Noticed fuel back splash when fueling up. Odd, assumed faulty gas pump. MIL only appears at random at speeds over 40mph and clears when stopped.
Tried driving with Reader on in real-time mode, of course get no MIL when reader is plugged in. Tried fancy expensive modern fuel with fancy snake oil stuff in it. Ghost mil remains.
Gave up chasing it. Assumed is engine wear. Contemplating Homer Simpson Fix.
Weather changed and got near freezing. Ran tank down to fumes, then filled with 87 ETOH free gas and 4oz of MMO. Backsplash at full tank again from different pump…

Epiphany! Should have noticed.

Now suspect some sort of check valve or vapor thingy has failed or bad atmospheric vent is full of desert and muck.

Problem is I am not sure what sort of gizmos are on Bert as research shows a number of possibilities.

Gurus please guide me? If no TLDR. Service manuals and parts fiche not too clear.

Currently have Jeep parked for suspension work, so figure is good time to fix other stuff too. No hurry to get back on road. Can walk to work. Currently have fuel tank however.