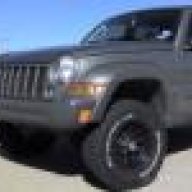 Joined

Oct 23, 2008
Messages

448
Reaction score

12
Location
Original post is over here:
https://www.jeepkj.com/threads/ltts-kj-up-for-sale.77785/#post-783723
Giving it one last shot before she goes to the salvage yard.
Well, after owning this one on and off since new, I'm selling the KJ for parts or project car. I've owned it since new, sold to a buddy for his daughter for a couple years, then got it back about a year ago. Come to find out, she never changed oil, and ran it way low at some point. Used a little oil when I got it back, then all of the sudden over a week, it went dry and seized on the highway... So, engine is toast. Here's the details on the rest of it.
It is a 2007 2WD Sport
- 47RLE Trans is good.
- Has Regegade Hood, grill and light bar installed
- Set of 5 TJ Rubicon Moab wheels
- Frankenlift in the front - Bilstein, OME 927 Springs, Clevis spacer, 3/8 steel top plate spacer
- JBA Extended front control arms
- rear Skyjacker springs with spacers to level out with front lift
- Extended brake line bracket to not stretch rear brake line.
- front bumper lower is trimmed as seen in pics
- rear hitch installed, with 4 way flat wiring
- The very first, original LTT cold air intake installed. Still 100% functional.
- LTT trans diptick adapter with dipstick installed (2007 deleted the dipstick from the factory)
- washer Reservoir relocated with to allow for 265/75-16 tires to not rub OEM washer tank.
-interior is average, no rips, but seats could use a good cleaning.
170-ish k-miles on the Jeep.
So who wants it? @tommud need another one? Great project Jeep. Great candidate for an SFA and LS Swap, or just throw another 3.7 in it and go. Has lived its whole life in the DFW area, so it is a rust free body and chassis.
Title is a salvage title. My son rear-ended someone a couple years ago, and the impact cut the main wire harness across the front behind the bumper. Insurance was going to require a complete new harness, so that totalled it out. "Frame" is straight, wires were repaired, and it's been on the road ever since.
So, I'm thinking
$1200
$500 is a good price, just for the lift, UCAs, Moabs, and Renegade conversion parts. Sold as a complete vehicle, not parting out. Grab a Uhaul flatbed trader for $20 and come and get it. Located in beautiful Van Alstyne, TX 75495.
Album of lots of pics here:
xc_hide_links_from_guests_guests_error_hide_media