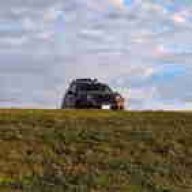 Joined

Mar 7, 2020
Messages

22
Reaction score

6
Location
Hi all,

I have a 2003 Liberty Sport 4x4 with the 3.7 V6.

About a month ago I replaced the heater core (very lukewarm heat), water pump (there was bits of plastic in the impellor when I replaced the timing chain last year? seemed like it would be good preventative maintenance), and the thermostat (used Mopar 68174083AA - had a Gates replacement recently, but after reading through the forum switched to a Mopar one to avoid issues down the road). Soon after, I started getting the P1281 code (engine temperature too low).

Using a scanner, it seemed to heat up to 175° ish and hold steady. Thinking I may have gotten a defective thermostat, I pulled it and tested in a pot of water next to the Gates one of the same temperature. Both of them started to move at 195° and fully opened well in 200s.

I re-installed it, with the bleed port on top (matched up with a dot on the thermostat housing, just to the right of the upper bolt). It seemed to start working fine over the next few days, but it was 80° outside and I wasn't using the heater. Heat would rise to 210-215 and hang out around there. This last week it's been 40s-50s so I've had the heater on, and the temperature won't go past 175° while driving again.

It really seems like it's correlated with the heater core, if I turn it off while moving the coolant temp will rise into 185-187 range, and if I'm stopped with the heater off, it will still reach 210-215 temperature just fine.

Am I missing anything? My heat works great now and I've been loving it, but it doesn't seem like the Jeep would have been designed to not reach operating temperature while the heat is on. I did not use a Mopar heater core - is it possible that it's drawing too much heat away? (Is that even a thing?)

I think my blend door stops (or actuator) are broken, as when I turn to full heat, it seems to "push through" and hit cold again, but if I stop the dial a few notches below full heat it works alright. Is it possible that this is letting too much air flow through the heater core somehow?

I feel like I'm grasping at strings, but I can't figure this out and I'm getting horrible gas mileage. It'd also be cool to take it easy on my 180k mile cats..

Thanks in advance for any help!