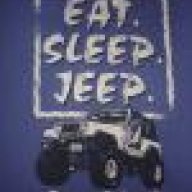 Joined

Dec 22, 2009
Messages

50
Reaction score

0
Location
I am considering installing a class 3 rec. hitch on my 07 KJ & also a mopar cooling fan upgrade kit to make it up to spec. for trailer towing. My rig has
3.7/ auto/ 4X4-stock sport.
My question is, I checked the spec. sheet on installation & it is a real easy
job to do, but what I noticed was that the new fan drive is screwed directly onto one of the engine pulleys that has a threaded male shaft sticking out.
Since this unit is directly mtd. to engine does rob performance such as power, mpg., & so on or does it have a electronic free wheel switch?
My vech. has an extended warranty & I plan to move out of state and pull
a 4X7 utility trailer thru moderate mtn. areas. Would this upgrade be a good idea or overkill.
Any Ideas???