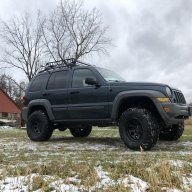 Joined

Sep 14, 2021
Messages

67
Reaction score

27
Location
After quite some time talking about one and looking but not really finding anything that I liked, I finally found the perfect Jeep Liberty.
I stumbled across this 2005 Jeep Liberty CRD surfing on Craigslist one day. It was about 2 hours from my house so I emailed the owner. He said that the drives side front ball joint was broken and it would need to be trailered. No big deal.
I get there and in conversation he mentioned he bought this Jeep to transport hospice nurses from town to his house for his wife, who was suffering from Lime disease. He lived on a one lane dirt road in the hills of PA just across the NY border. He had bought this Jeep about 2 years ago for this reason from a friend of his who worked at the Jeep dealership in town.
At first look the Jeep stated well and checked off all the initial inspection boxes. So we got to work addressing the ball joint to get it on the trailer. I ended up popping out the stud and drilling a hole in the cup. I then put a bolt through the spindle and A arm. Worked out perfectly to get it on the trailer.
Got it home and stated looking things over. It is in very good shape. Very clean all around. It needs some TLC and clean up but will suit my needs for a hunting truck and overland vehicle just fine.
Only problem I have found is the throttle pedal doesn't return to an idle. The engine will of the pedal is pulled back but it won't return on its own. New spring? New pedal?
Any ways, plans are to put wheels and tires on it this fall and then a 2.5" lift kit next spring. Any recommendations? I see there is a lot of info here but don't want to creat a post asking the stupid Newbie questions.
Would also like an EGR delete kit or tune. I called Green Diesel Performance but they no longer support the Libertys. If anyone knows of a tuner to delete the EGR, that would be appreciated.
You must be registered for see images attach