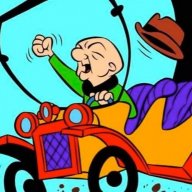 Joined

Sep 14, 2021
Messages

5
Reaction score

6
Never owned a Jeep, never wanted a Jeep, never really liked Jeeps, but a friend needed to sell her 70k mile, '05 Liberty, cream puff, so I figured it might make a handy back up to our Honda Odyssey & 4x4 Tundra. That was 100,000 miles and five years ago, and world's most uncomfortable seats aside, this thing has been pretty damn awesome. Normal maintenance and wear stuff (tires, brakes, wiper blades, filters, PCV, tank caps, etc.) but other than a replacement radiator, water pump and belts at 130k, this thing has been a rock. Just threw some new Michelins on it, some Ruthenium plugs in it, all new O2 sensors, and my usual Motul oil change every 5,000 miles, and knock on wood - it runs better now than when I first got it, and it ran great back then.

I've been a devoted Honda/Toyota fan for decades, and still am, and the underwhelming power to weight and fuel economy of the Jeep have never been very exciting, but damn if it doesn't do a little bit of everything really well. I don't mean to gush, but this vehicle that I couldn't have been less enthusiastic about first owning, constantly surprises. The turning radius gets me into and out of tight spots that make the Tundra useless, and while the bigger truck can tow more, who knew this little ****** could drag my loaded feed trailer, my kids' cars on a dolly, or, in one particularly untimely jam, turn about and tow our Mercedes Sprinter Class C motor home down the home stretch after starting the trip as the Toad? And speaking of Toads, the initially uninspiring baby **** brown color of the Jeep is actually a perfect match to one of the three shades of brown on the motor home, so it looks like the result of some sort of plan rather than just the random dumb luck that it is.

Beach, mud, or snow, I've never gotten stuck anywhere that I couldn't drive out of by just dropping tire pressure. The fuel economy is still pretty middling, but my other 4x4 is a V-8 Tundra that truly ***** on that front, so all things being relative, the Jeep is still a star. Built a modular pen of sorts for the back and hauled livestock, spent more than one night stretched out in the back to get an early jump on the fish, and have more than once saved bigger truck knuckleheads at the local boat ramp. ****, even with all of the plastic fantastic body pieces, except for a couple inopportune scratches, the paint still looks great, and I'm of the school where motor vehicles get washed only when it rains.

Okay, so it's not perfect, but those things that haven't been able to chew the fat have been pretty simple fixes, or at least easy to ignore. The body seam above the windshield started to give up, but a tube of 3M "Black Death" weatherstrip adhesive put that all right. The gas struts on the rear glass and hood are ****, but a piece of routed dowel keeps me from smacking my head on them, so it's all good. Just found a reasonable deal on both rear window regulators (yeah, somebody should be made unemployed for them) and wired in a seven pin trailer connector, finally, so I can actually safely tow my 16' tandem axle aluminum cargo trailer. The CD player just died last week, but I've just been looking for an excuse to add something with Blue Tooth, so no harm no foul. The original A/C is all intact and cold, so I'll probably replace the heater core next, before winter comes, when they usually seem to go out.

All things considered, I can honestly say that I'm now a fan.