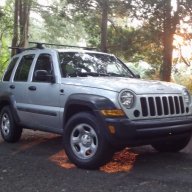 Joined

Jul 25, 2021
Messages

1
Reaction score

0
Hi,
I set out to replace my dead '99 Ford F150 with another pickup, I'm a self employed Home Improvement/Handy Man...In no way planned, I ended up behind the wheel of a 2007 KJ Sport (6 speed stick) with 102k miles off Craig's List....and I dig it !
This is the third Jeep in my life. my first was a 1982 CJ7 Renegade..then much later a lifted 1998 TJ Sport.
The Liberty is versatile enough for my work needs in terms of interior room, roof rack and I plan on a small trailer sometime later when money permits....and switches over to a nice little SUV when I'm off duty.
Anyway, I will try and find my way through the past forum posts to get some answers..before I annoy anyone with any " beating-a-dead-horse" questions.
Thanks for having me.