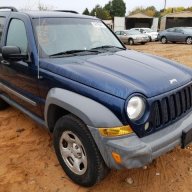 Joined

Dec 7, 2021
Messages

6
Reaction score

0
Hello everyone!

Just won a bid for a salvaged 2005 Jeep Liberty, my dream is to turn her into an off-roader!

Her details:
- 3.7L V6
- 4x4
- Manual transmission
- 160K Miles

Engine runs well and I know I will need to work on several things... so far I know the following needs to be addressed:

- Driver's window doesn't go up
- Hand break doesn't work
- Bumper damage but I plan to change it for an off-road one
- New tires & new rims

Can someone help me out to see how I can verify what trim it is, unfortunately cannot find any references for this?

Thank you!