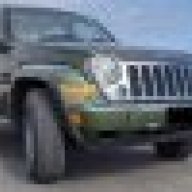 Joined

May 21, 2021
Messages

31
Reaction score

21
Hey all,
Long time lurker, first time poster, this forum has been a great help to me over the past few months, helping me to solve what few minor issues I've had with this vehicle, so I thought I'd give back a little
Here's my 2006 KJ 65th Anniversary edition 'Cherokee'. I picked it up in February and so far not much done to it, apart from:
1 - Replace original green grille which had broken tabs with a chromie (might Plastidip it black...)
2 - New A/T tyres (cheapies - but some good reviews on other forums and in other research I did...)
3 - ScanGauge II (bought it eons ago, but very handy to see what the engine temps are up to)
4 - Some fluid changes (engine oil and oil filter, t-case and front diff - haven't done rear diff yet but poking my finger in, the oil is surprisingly clean so I might leave it for now)
So far (touch wood) I've had little issue with this rig. The main issues being (in no particular order):
1 - Hood was difficult to close and latch, requiring quite a slam; eventually when closing it, it slammed shut and later the interior latch wouldn't open it
- found out the hood latch was slightly loose and was shifted down ever-so-slightly eventually moving down too far so it wouldn't open. Had to cutaway the plastic guard through the grille then open the latch manually and loosen the latch mechanism, move it a few mm upwards then re-tighten - was very thankful to have that fixed myself...
2 - The serpentine belt fitted to the car originally when I bought it was way too big, and I got mighty squeal from it when using the A/C for first few seconds. Replaced that with a shorter belt and I did the auto-tensioner while I was at it
3 - The original highway spec tyres were too big (255/70/R16) and rubbed - replaced them with the 245/70 A/Ts and all is well.
4 - There might be a slight weepage from the rear main seal? A pic below may show it.
5 - Park brake (e-brake) was out of adjustment so tried the drive-in-reverse-apply trick and this seems to have tightened it up somewhat.
6 - One front lower ball joint has a torn boot and the inner control arm bushes are apparently on their way out (no noises yet though), and UCA ball joint boots are also torn, all this will be addressed in upcoming 2" lift.
7 - There is a bulb out in the dash instrument cluster which means my tacho is slightly dim in one portion (from 4k RPM to 6-whatever...not that I'll need to rev that high normally anyway
). I'm yet to find a definitive answer on bulb type so if anyone knows (and is still reading this), please let me know.
But all in all, very happy with it so far. Being it has a little over 190,000 km (around 118k miles), there is little to fault. The 4x4 modes work great (I found that rolling very slowly with main transmission in N is best way to achieve success with transfer case shifting into any mode), have done some trail-driving here and there so far, the rear axle articulation is really impressive and the LSD works well. Plus driving around in Full Time mode in the rain, it's quite sure-footed. And I love the low-range crawling ability!
The only thing I'm not too fond of is the fuel economy from the 3.7, although I do get around 21 MPG with 'normal' driving (going easy on it).
There is the usual front suspension sag and I have a 2" lift kit ordered and cannot wait to have it fitted along with the usual suspension bits refresh! I will be sure to post pics once I have it fitted. And then hopefully I'll be more confident taking it on some trails, sand, etc.
Right now in Australia there is a crazy demand for 4x4s (international travel very restricted due to COVID-19), and I'm glad I managed to get my foot back in the market (this is the fourth 4x4 I've owned so far) with this rig for way less than what you'd expect to pay for some other types of 4x4s out there.
Onto the pics...
Earlier pics from how it looked when I first got it:
You must be registered for see images attach
You must be registered for see images attach
You must be registered for see images attach
You must be registered for see images attach
You must be registered for see images attach
You must be registered for see images attach
You must be registered for see images attach
You must be registered for see images attach
What she looks like currently:
You must be registered for see images attach
You must be registered for see images attach
Last edited: