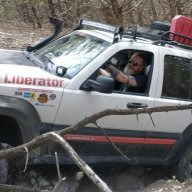 Headed off-grid. You suckers enjoy "civilization".
KJ Supporting Member
Joined

Apr 29, 2021
Messages

1,770
Reaction score

1,769
Location
Okay gang, I have built another shelf in my garage labeled Jeep…so as not to mix up VW and the Wife's Nissan fluids.

I got me some HOAT and all the proper oils and grease and such.

Im at the stage with Bert the ScienceMobile where I'm teaching myself all about these 3.7 gasser drive trains. 1 part preventative maintenance and 1 part learning by doing.

I borrowed some equipment from the lab that lets me get better measurements than the consumer grade stuff.

Everything checks out but the coolant. As I feared, the previous owner was running straight Autozone brand Green antifreeze instead of HOAT.

So riddle me this: Goodnews is it is clean and there are no leaks. Should I pay for a professional Flush or should I DIY it before switching back to the proper HOAT?

I haven't dealt with a radiator since 1991, and the internet is full of opinion based information- and I prefer to deal in supported facts or opinions from experience d mechanics supported by facts.