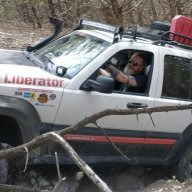 Headed off-grid. You suckers enjoy "civilization".
KJ Supporting Member
Joined

Apr 29, 2021
Messages

1,770
Reaction score

1,769
Location
You must be registered for see images attach
So, my worst fears were proven when I put in ABS sensor #7…
When I pulled the old one out the face of the sensor what's ground off. I had seen this on two other sensors I pulled out of the passenger front but chalked it up to bad quality control.
Slapped the new sensor in yesterday in record time and it worked, however took a while for lights to reset.
Threatened to tear the hub apart today and find out what's going on, but of course, lights are out and everything works great.
I have no clue what could cause the ring ton contact the sensor face. Bad hub? To much play in the cv axle?
No clue as in previous investigations could find nothing wrong. Drives fine.
Suggestions?