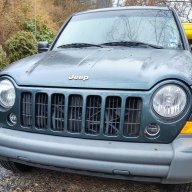 Joined

Jan 6, 2022
Messages

11
Reaction score

9
This is frustrating.
I need the thing that is in the drivers-side front wheel-well that lines it (being from Philly, if I were younger I would call it the "Jaun" but I'm not so I won't). I think it's this part:
https://www.moparpartsoverstock.com...ER-Front-Fender-Left/13730439/55157145AB.html
But, it's discontinued. That site says it was replaced
by another
part but when I click on the link provided for the replacement part, it says it doesn't fit my '05 Liberty and takes me through the process to find the part that fits...and (you guessed it, but it took me three trips 'round to realize), I end up back at the first page.
This liner-thing came loose and got all chewed up by the tire. (My father rear-ended a landscaping trailer a few years ago and we keep finding parts that weren't fastened properly in the repair, so this was probably yet another casualty of the accident. I cannot complain too much because the insurance company wanted to declare it a total loss but he convinced them to repair it...and I think they had to cut some corners to do it for the price.)
Anyone have a source for a correct part # cross-reference or for discontinued old stock? This is a 2005 Liberty CRD Sport. Thanks in advance!