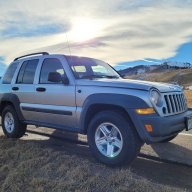 Joined

Nov 12, 2021
Messages

18
Reaction score

10
Location
I've had my KJ about five weeks, and one of the issues when I got it is that the left turn signal blinks fast when you step on the brake. The turn signal seems to work fine when the brake is not applied.

I realize the short could be anywhere in the circuit but, I thought I'd ask if there are any common places to look before I start troubleshooting tomorrow.

Symptoms are as follows: (all bulbs appear to work)
Left blinker flashes fast with brake on - works fine otherwise
Left front turn signal comes on solid when the car is in reverse. The left turn indicator in the cluster comes on too but, slightly dimmer than normal. (I don't know what the rear one is doing under this condition, I assume it's on also)
Reverse lights both work but, the left one goes off when the brake is applied

Since one of the places that all these circuits converge is the tail light assembly, I'm hoping the problem will be localized there since it's easy to access! Any ideas?