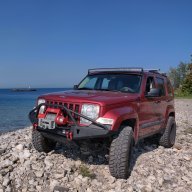 Member
KJ Supporting Member
Joined

Apr 18, 2019
Messages

64
Reaction score

26
hey guys,

ive heard the stock ride height of a KJ is 19" from center of hub to bottom of fender flare. Is this the same for the KK?

I just went out and measured and mine are as follows:

DF - 21 1/8
DR - 22 3/8
PF - 21 3/8
PR - 22 1/2

it leans to driver side a bit because of the gas tank + skid plate id guess

I have the 3.5" econo lift from JBA when they sold it, so i have a top plate and clevis spacer and OME 927. It seems like the front has sagged a bit? Mind you, I have full skid plate package, ATH front bumper, and Warn XD9000i.

The back is a bit higher than usual because I have the Monroe load-lever shocks without my new rear bumper (comes in a week or two, super excited!). Thanks for that suggestion Tom, those work great!